Membership
Welcome to UBSM Member Card and enjoy exclusive discounts and promotions!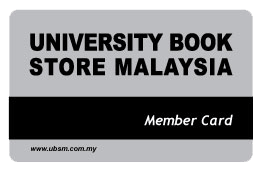 UBSM MEMBER CARD APPLICATION / RENEWAL FORM


Click
here
to download the UBSM Member Card Application / Renewal Form.
Please fill-in the form and submit at
UBSM outlets
listed below.
MEMBERSHIP FEE APPLICABLE
A nominal fee will be chargeable for the issuance and maintenance of the membership card.
Membership ranges from one to two years.
MEMBERSHIP CARD
can be used
only at the
UBSM outlets
listed below:- ·
Jaya Shopping Centre, Sec 14, Petaling Jaya

School Bookshops (selective items)
PRIVILEGES
• Exclusive Discounts off original retail price on UBSM selected items.
Discounts are
NOT APPLICABLE
for
UBSM eStore
purchases.
• Prior news about UBSM activities and promotions via our website:
www.ubsm.com.my
• Other privileges from our preferred partners.
•
Terms and Conditions
apply.